We are proposing a black and white, or color portable ultrasound. This portable ultrasound is controled by a dedicated software.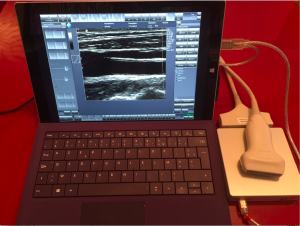 One of the lightest and lowcost mobile ultrasound.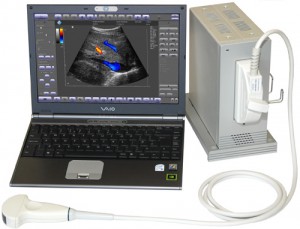 Portable Ultrasound (computer not provided)
Spécifications
General
"FREEZE" mode
Variable viewing area for maximazing frame rate
Gray scale : 256
Color scale : 256
Scanning depth : max 300 mm
Scanning method : electronic linear, electronic convex, electronic microconvex
Measurements and calculations packages

Signal Processing
Pre-processing :

TGC control
Dynamic range control
Overall gain control
M-Mode sweep speed control
Accoustic power control


Post-processing :

Variable frame averaging
Brightness, contrast, gamma control
Scan direction, rotation up/down/left/right controls
Positive/Negative control
Bi-linear interpolation
Echo enhancement control
Noise rejection function
Dispersion reduction function

Focusing
Digital transmit focusing

Multi-focus mode :
- transmit/receive focusing, max 4 points
- programmable focus area presets

Dynamic-focus mode :
- transmit variable focus, 8 points
- dynamic receive focus, 8 zones
Ultrasound Software
Driver package
Ultrasound control software
3DView Plugin (in option)
Computer Requirements
PC Compatible Desktop/Notebook/Tablet PC
CPU Dual Core 1.6 Ghz or better
1 Mb of RAM or better
USB 2.0 Interface
Don't hesitate to contact us at commercial@iimt.fr for more information.
Video made with the portable ultrasound